Field Trip Fridays
Group Tours are on hold
UPDATE 2022: We have acomplished most of our remodel and repairs with anticipation of being completed early this year. Stay tuned for the return of Field Trip Fridays.
If you care to make a donation to our final restoration from the hurricane damages here at the farm click here.
We have had the pleasure of hosting Home School Groups to our farm (home) on Fridays. We start with a Prayer (that no one gets stung) and a Pledge Allegiance to the flag (the US flag). I enjoy teaching about "A Bee's Life in a Bee Colony" in an air-conditioned classroom.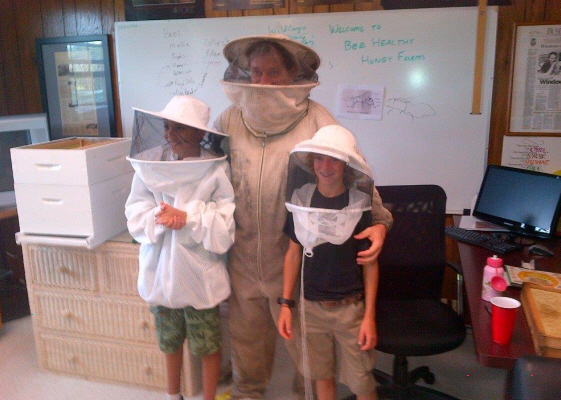 We then take a break from bee class and talk about "Back Yard Chickens" and enjoy sometime outside watching a bee hive up close, and chasing and holding several neat breeds of chickens. Sometimes we have young chicks which are the kid's favorites. Then we have a "Bee Shop and Airplane Hanger Tour." One topic I like to touch on is what I call "God's Economy." Its amazing how chickens and bees are popular today and date back to early ages as a core provision from individuals to armies. I then jump outside and check on my insect armies. Everyone can watch through the picture window as I demonstrate how a beekepers works a hive. Then after solving the riddle 'which came first the chicken or the egg?' we take a lunch break (bring your own brown bag lunch) and have a casual time to talk about what ever interests you.
Here is a document with more details: Bee Healthy Honey Farms Tour_info.pdf